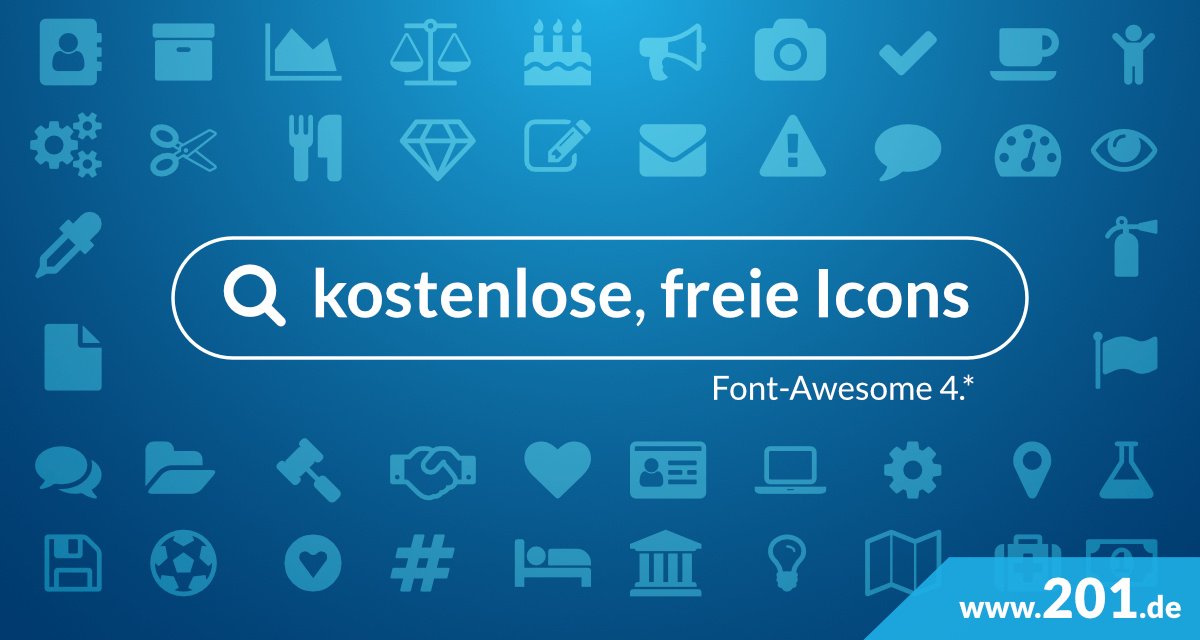 Font-Awesome-Finder: finde kostenlose, freie Icons
Veröffentlicht am 11.09.2017 -
#Unsere Werkzeuge
Ein Icon ist ein grafisches Symbol oder eine vereinfachte Darstellung, zum Beispiel für einen Gegenstand, einen Status, eine Warnung, eine Kategorie oder eine Handlung. Wir alle kennen solche Symbole und Piktogramme: auf Verkehrs- und Hinweisschildern, bei der kleinen Diskette (die zum Speichern führt) oder das kleine Haus, welches auf die Webseite zur Startseite verlinkt.
Auch für Sie können Icons sinnvoll sein, zum Beispiel für Kategorien von Produkten, Standorte oder Unternehmensbereiche. Der Vorteil der Icons ist, dass sie wenig Platz wegnehmen, doch trotzdem schnell wiedererkannt werden.
Wir bei studio.201 nutzen i.R. das tolle, kostenlose Icon-Set von Font-Awesome. Alle Icons / Symbole auf dieser Seite sind aus diesem Set. Suchen Sie zum Beispiel nach: Reise, Pfeil, Bank, E-Mail, Hinzufügen, Welt uvw..
Trotz der kostenlosen Nutzung gelten die Lizenz-Bedingungen von Font-Awesome. Zum Beispiel dürfen Logos von Firmen nur genutzt werden, um diese dar zustellen und sind Marken der jeweiligen Besitzer:
All brand icons are trademarks of their respective owners.
The use of these trademarks does not indicate endorsement of the trademark holder by Font Awesome, nor vice versa.
Brand icons should only be used to represent the company or product to which they refer.
Please do not use brand logos for any purpose except to represent that particular brand or service.

fa-american-sign-language-interpreting

fa-arrow-circle-o-right

fa-assistive-listening-systems

fa-battery-three-quarters

fa-caret-square-o-right

fa-chevron-circle-right

fa-exclamation-triangle

fa-external-link-square

fa-google-plus-official

fa-odnoklassniki-square

fa-thermometer-three-quarters

fa-volume-control-phone